すべて
2010年06月22日
World Cup
I love watching soccer and this year's World Cup has been full of excitement. I know most of you are cheering for Japan and I am too, but the USA is doing pretty good too. Their first two games were full of action and excitement. They tied England 1-1. And their second match against Slovenia ended in a 2-2 draw. If the USA wins their last match against Algeria they are through to the next round... So stay tuned this Wednesday to what should be a good match between the USA and Algeria... My prediction: USA 3 - 1 Algeria..
----------------------------------------------------------------------------------------------
「ワールドカップ」
私はサッカーを観るのが大好きです。そして今年のワールドカップは興奮でいっぱいです。
みなさんが日本のために盛り上がってると思います。私も日本を応援していますが、
アメリカも結構いい感じです。
最初の2試合はアクションと興奮に満ちていました。
イングランドには1-1で引き分けました。
2試合目のスロベニア戦も2-2のドローに終わりました。
次の試合でアメリカがアルジェリアに勝てば、次のラウンド(決勝トーナメント)に進むことができます。
今週の水曜日のアメリカ対アルジェリアはいい試合になるとおもいますので、注目してください。
私の予想。:アメリカ 3-1 アルジェリア 
Pearl Bowl
The spring season is almost over and there is only one game left. For the second year in a row we are in the Pearl Bowl. We lost last year and we haven't won it since the 2005 season. I'm excited to be back in the dome for a big game. This time we need to come away with a win. I will do everything I can to make sure that we come away with a win.It should be an exciting game. Look for #11 to do big things! Thank you for your support and hope to see you there on July 1st.
-------------------------------------------------------------------------------------------------------
「パールボウル」
春のシーズンもほどんど終わり、残すところあと1試合となりました。
パールボウルは2年連続の出場となります。
昨年のパールボウルは負けました。2005年以来、まだパールボウルで優勝していないのです。
東京ドームのビッグゲームに再び出場することができて興奮しています。
今回は我々が勝って春シーズンを終えます。
勝利を確実にするためにできることを全てやります。
パールボウルはとてもエキサイティングになるはずです。
背番号11がビッグプレーをするのを是非見てください!
いつも応援ありがとうございます。7月1日に東京ドームでお会いしましょう。
2010年05月13日
The Spring Season
The spring season is already here.
This Sunday is the first game of what I hope is 4 game tournament for the Seagulls. It's exciting to finally get back out there and actually playing again. Now it's just a matter of making sure that everything that we've done from February until now tranfers over to victory on the field. From the small one-on- one battles to the overall outcome of the game we want to be a dominant force. That's what we're aiming for, and this Sunday we have a chance to make it happen out on the field.
It's "OUR TIME" (2010 team slogan). We control our own destiny; and I'm believing that we will go all the way this spring and fall.
Thank you for your support. We hope to see you this Sunday at Kawasaki stadium!
-------------------------------------------------------------------------------------------------
「春のシーズン」

いよいよ春のシーズンがやってきました。
最大で4試合あるトーナメントの最初の試合が、今週の日曜日にあります。
いよいよ試合のフィールドに立って、プレーできるなんてエキサイティングです。
試合に勝つために2月から今までやってきたことを全て実践できるかが鍵になります。
1対1の勝負から試合全体の結果まで圧倒したいです。
それが私たちの目標です。そして今週の日曜日にそれを実践できます。
これが私たちの目標「OUR TIME」(2010年のチームスローガン)です。そして日曜日に
フィールド上で実現するチャンスなのです。
私たちの運命は私たち自身でコントロールする。このようにして今年の春も秋もずっと進んで
いくと信じています。
いつも応援ありがとうございます。
日曜日に川崎球場でお会いしましょう!
2010年03月19日
The upcoming season...
Hello my name is Kevin Jackson. I am currently serving as a vice captain now in my sixth season with the Obic Seagulls. We're already underway in what is shaping up to be a positive off-season program. Some new players have joined us, and some old players have a new look.
Everyone is working hard and I'm confident about our chances this year. Our first big hurdle is getting back to the Pearl Bowl and winning it this time around. The ultimate goal of course is to be national champions, but we must take things one step at a time. Our focus now is getting to where we need to be physically and putting ourselves in a position mentally to be able to be successful come May.
I hope you are as excited as I am. See you on the field!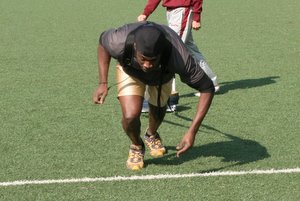 ------------------------------------------------------------------------------------
「きたるべきシーズンに向けて」
こんにちは。ケビンジャクソンです。
私はオービックシーガルズ6年目の今年もバイスキャプテンを務めます。
私たちは既にオフシーズンのトレーニングプログラムを始めています。
数名の新人選手がシーガルズに加わりました。そして元選手も数名帰ってきました。
みんな一生懸命練習しています。そして今年は私たちにチャンスがあると確信しています。
最初の大きな目標はパールボウルで優勝することです。
そして最終的な目標はもちろん日本一になることです。
そのためには一試合一試合をものにしていかねばなりません。
現在私たちは5月から始まる試合に勝つために身体的・精神的に必要な要素を身につけることに焦点を
当ててトレーニングをしています。皆さんも私と同じくらいエキサイトして欲しいと思います。
では、試合会場でお会いしましょう!
2010年01月23日
Final Four
It's down to the final four teams in the NFL play-offs.Who would've thought that the Jets, with a rookie quarterback would be in the AFC championship game? Did anyone have the Patriots getting blown out at home in the wild card game?
This year, as always, is full of suprises. I can't wait to check out the games this weekend.Both games could go either way. I'm going to watch the Vikings-Saints match-up closely.I think both teams are evenly matched. I'm pulling for Brett Favre, but it's hard to say which team will come out on top. I think the task is too tall for the Jets, but hey I could be wrong. We'll see what happens. Should be an exciting weekend of football.
------------------------------------------------------------------------------------
「ファイナル4」
NFLプレーオフではファイナルの4チームが決まりました。
ルーキーQBで戦うジェッツがAFCチャンピオンシップに出るなんて誰が予測できたでしょう?
ペイトリオッツがホームのワイルドカードゲームで惨敗するなんて誰か予測できましたか?
今年も、いつものようにNFLプレーオフは驚きでいっぱいです。
今週末のチャンピオンシップが楽しみです。どちらの試合もどうなるかはわかりません。
バイキングスとセインツの試合は接戦になる気がします。両チームとも実力は均衡していると思います。
私はブレット・ファーブ(バイキングスのQB)を応援していますが、どのチームがトップに立つのかを予想するのは難しいですね。
ジェッツにとって(コルツとの対戦は)高い壁になりそうですが、そんなことはわかりません。
何かが起こるのが見れるでしょう。フットボールのエキサイティングな週末になるはずです。
2009年10月04日
So far...
The fourth game of the season is already here.
This year is going by so fast. We are off to a pretty good start.
We're undefeated but we can and should be better.
If we can clean up some things in all phases of the game, I think we can do something really special this season.
I'm looking forward to our next game and another opportunity to get better.
It's not good enough to just win. I want to get to a point where we can consistently dominate opponents no matter who we face. We have the potential to do it, and that's where I hope we'll be as a team.
Thank you always for your support. We will do our best to repay you all with a championship season.
I am sorry for the late notice, but I am continuing the UNICEF program this fall season. So far this season in the first three games I've been able to manage 8 tackles, 1.5 QB sacks, 1 pass break up, and 1 QB hurry.
Using the same formula that I used this past spring, I will be donating ¥2750 to the UNICEF vaccination program to help children all over the world recieve the care that could possibly save lives. I ask you again to support me in this effort to give something back. I've already been joined by a partner who has agreed to match my donation.
Bringing our total to ¥5500 (over 200 vaccinations) on the year thusfar. Not bad, but we can do better...
Thank you again for your support. See you next game!
Next game vs. All Mitsubushi Lions @ Kawasaki kyujyo Sun. Oct. 11 14:30
Go Obic Seagulls!!!
------------------------------------------------------------------
「これまで」
もうシーズンの4試合目です。
今年はとても早いです。
私たちはいいスタートは切れました。
私たちは無敗ですが、もっといい試合ができたはずだし、この先できると思っています。
試合の全てにおいて(オフェンス、ディフェンス、キッキング)、ミスをなくすことができたなら、
今年は本当に特別なシーズンににすることができるでしょう。
次の試合は楽しみですし、うまくなる機会があるのも楽しみです。
ただ勝てばいい、というわけではありません。
どんな相手がきても、一貫して圧倒することが目標です。
ぼくたちはそれをする力がありますし、ぼくがチームに望んでいることでもあります。
いつも応援ありがとうございます。
チャンピオンシップシーズンを皆様と一緒に過ごすことができるように全力を尽くします。
お知らせが遅くなってすみません。
この秋シーズンも、ユニセフプログラムを続けています。
今シーズンの3試合、8タックル、1.5QBサック、1パスカット、1QBハリー(投げ急がせること)を
記録しました。
春シーズンと同じ方式で、世界中の子供たちの命を救うために2,750円をユニセフワクチンプログラム
に寄付しました。
この活動にご協力してくださいますよう、お願いいたします。
もう一人の方が私に同意してくださり、このプログラムに参加していただいてます。
これまで2人で5,500円(ワクチン200本以上相当)、寄付しました。
(ぼくの活躍と皆様の協力で)もっとたくさん寄付することができます。
改めてありがとうございます。
次の試合で会いましょう。
次の試合はオール三菱ライオンズと川崎球場で
10月11日、14時30分キックオフです。
ゴー、オービックシーガルズ!!!
------------------------------------------------------------------
  (事務局より)
   ⇒(2008年10月NEWS)ケヴィン・ジャクソン選手の取り組みについて
   ⇒日本ユニセフ協会・ユニセフ募金のお申し込み (the Japan Committee for UNICEF )
   ⇒ご寄付いただいたら、こちらからお知らせください ⇒inquiry form
2009年08月27日
The season has finally come...
Well actually this years fall season seemed as if it came a little too fast. We didn't have as long of an off season this year because we made it all the way to the final game this past spring. Anyhow, we should have an exciting season this year. All of our players are back, and some new players will be getting a chance to get out there and make their presence felt this fall. Please stay tuned because this year will certainly be full of a lot of excitment! Thank you for your support always. We won't let you down!

Go Obic Seagulls!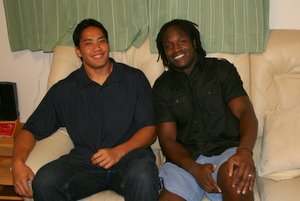 「シーズンがついにやってきました」
今年の秋のシーズンがついにやってきます。
春の試合で決勝まで行きオフシーズンが短かったので、初戦を早く迎える気がします。
とにかく今年はエキサイティングなシーズンにしなければなりません。
選手全員がそろい(海外組等)、新人にも試合に出て存在感を示すチャンスを得ている選手もいます。
今年もエキサイティングなことがいっぱい起こるはずなので、楽しみにしていてください。
いつも応援ありがとうございます。
がっかりさせませんよ!
ゴー、オービックシーガルズ!
2009年07月06日
Spring season...
Thank for all of your support this spring season.
Unfortunately we were unable to bring home the Pearl Bowl championship trophy,
but we had a good run.I felt that we improved as a team over the spring,
and I am already looking forward to the fall.
In our last game I was able to record 5 tackles, 1 fumble force, 2 pass cuts,
and 2 big plays. ¥2000 was the total amount I donated for our last game.
I was joined again by my very generous partner who matches my donation for every game.
That brings our total from the last game to ¥4000.
With that small donation just about 200 children worldwide are able to recieve life altering vaccinations. Thank you again for your generosity. I plan to continue this program during the fall season.
Please partner with me to make a difference in the lives of children worldwide.
GO OBIC SEAGULLS!!!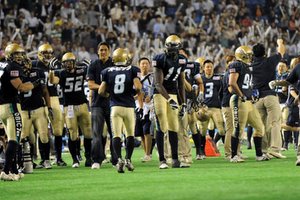 ------------------------------------------------------------------------------------
「春シーズン」
春シーズン、応援していただきありがとうございました。
残念ながら、私たちはパールボウルの優勝トロフィーを持ち帰ることはできませんでしたが、
いい経験ができました。春シーズンを通してチームがよくなっていくのを感じました。
もう秋シーズンを楽しみにしています。

前回の試合(鹿島戦)で私は5タックル、1ファンブルフォース、2パスカット、2ビッグプレー
という記録を残すことができ、2,000円を寄付しました。
毎試合、私と同額の寄付をしていただけるパートナーが再び寄付をしてくださいました。
前回の試合の寄付金額の合計は4,000円になりました。

それだけの寄付で、世界中の200人の子供たちが予防接種によって命を救われるのです。
プログラムに協力いただき、ありがとうございます。
私は秋シーズンもこのプログラムを続ける予定です。
世界の子どもたちの命を救うために、是非ともプログラムにご協力ください。

ゴー!オービックシーガルズ!!!
2009年06月16日
Aloha...
First of all I would like to thank you for all of your support.
We were able to edge out Fujitsu in our last game for a spot in the 33rd annual Pearl Bowl. It was a close game, and it went down to the very last seconds of regulation, but we fought all the way to the end and pulled off a thrilling come from behind win!
Please come out and support us in this week's big game.
Bring a friend, or two, or three!
Last game we were able to raise a lot of money for the UNICEF vaccination program. There were a lot of big plays and some new donors. Personally, I had 1 QB sack,
1 fumble recovery, 1 field goal block, 2 tackles, and 2 big plays.
My total in donations for the last game was ¥2000.
We also recieved donations from 4 other supporters.

Two very generous people donated ¥2000 each, and the Seagulls very own Mutsumi Takahashi(¥4000) and Takamasa Hashimoto(¥4200- 3 game total)
each donated rather handsomely to give us a grand total of ¥14,200
for the last game.
With this small donation just over 700 children are able to recieve
vaccinations that will change their lives forever.
Thank you again, and if you can, please partner with me this next game
to make a difference in the lives of children all over the world.

Next game: 6/19 (Fri.) vs. Kajima Deers @ Tokyo Dome 19:00
GO OBIC SEAGULLS!!!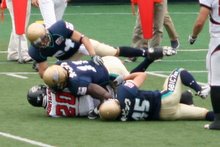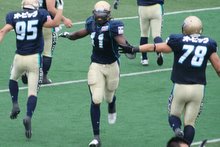 「アロハ」
いつも応援していただきありがとうございます。
第33回パールボウルの出場をかけた前回の試合で、富士通に勝つことができました。
とても接戦で最後の数秒までもつれましたが、最後まで全力で戦った結果、わくわくするような
逆転で勝利することができました。
今週のビッグゲームも、是非会場に来て応援お願いします。
ご友人たちも連れてきてくださいね。
前回の試合でユニセフのワクチンプログラムに多くの金額を寄付することができました。
たくさんのビッグプレーがあり、新しくプログラムに参加してくれた人もいます。
私の記録は1QBサック、1ファンブルリカバー、1フィールドゴールブロック、2タックル、2ビッグプレイ
で寄付金額は2,000円でした。
今回は4人のサポーターから寄付をいただきました。
2人の好意的な方にそれぞれ2,000円を寄付していただき、またオービックシーガルズの
高橋睦已選手(4,000円)と橋本享祐選手(4200円/3試合)もそれぞれ寄付し、前回の試合での
寄付金額の合計は14,200円になりました。
これだけの寄付で、700人の子どもたちが生きるためのワクチンを受け取ることが
できます。あらためて感謝いたします。
世界中の子供たちの命を救うため、次の試合でもご協力お願い致します。
次の試合は6月19日(金)、鹿島ディアーズと東京ドームで対戦します。
ゴー、オービックシーガルズ!!
2009年05月28日
Good afternoon...
Two games down and two more to go.We are off to a 2-0 start in the Pearl Bowl tournament,and we are looking to keep the momentum going and get our third victory this coming Saturday.
I want to again thank all of our fans for their support during last weeks win over the Pirates in Kawasaki. In our 24-7 win I was able to make some plays (1 QB sack= \500, 3 Tackles= \600, and 1 Big play= \200 ). Those plays amounted to a \1300 donation to the UNICEF vaccination program.
Two very generous people partnered with me this week. One individual donated the same amount as me, \1300.
The Obic Seagulls very own #13, 高橋睦已 donated \2000 for his touchdown!
Our grand total for last week's game was \4600! With this relatively small amount of money just over 200 children are able to recieve vital vaccinations that will change their lives forever.
I want to thank these special guys, and encourage everyone out there who reads this blog to get involved and make a difference in the lives of millions of children worldwide.
Thank you again.
Next game: 5/30(土)11:00 vs. Fujitsu @川崎球場
GO OBIC SEAGULLS!
------------------------------------------------------------------------------------------------------------------------------
「こんにちは」
2試合が終わり、あと2試合あります。
私たちはパールボウルトーナメントを2勝0敗でスタートすることになりました。
この勢いを保って、今週の土曜日は3回目の勝利を勝ち取ります。
先週、川崎でパイレーツに勝つことができました。応援してくださったファンの皆様、
あらためてお礼申し上げます。
24-7での勝利の中、数回いいプレーができたので(1QBサック=500円、
3タックル=600円、1ビッグプレー=200円)、1,300円をユニセフワクチンプログラムに
寄付することができました。

今週は2人の好意的な方が、プログラムに賛同してくれました。
ひとりの方は私と同じく1300円を寄付してくださいました。
もうひとりはオービックシーガルズの#13高橋睦已選手で、彼がタッチダウンしたことで
2,000円を寄付してくれました。
先週の寄付金額の合計は4,600円になりました!これだけの金額で、200人の子供たちが
命を救うワクチンを受け取ることができ、彼らはずっと生きていくことができるのです。
お二人にはお礼を言いたいです。

そしてこのブログを読んでいる皆様で関わりながら、世界の数百万人の子供の命を救いましょう。
あらためて感謝いたします。
次は5月30日(土)、川崎球場で11時から富士通フロンティアーズと対戦します。
ゴー!オービックシーガルズ!
2009年05月12日
400 shots!
Good afternoon..

I would like to thank all of our supporters for braving the rain last Tuesday and cheering us on in Kawasaki...
Although it wasn't pretty we were able to come away with our first victory of the year. We are still growing as a team, and there are a few areas of the game that we must improve in to become the championship team we are capable of being.
I was a little disappointed that we gave up 3 points on defense, but the only thing we can do now is learn from our mistakes, get better, and don't make the same mistakes again...
On a personal note, I was able to rake in 4 tackles and 1 Big play for the game. With 1 tackle= \200 and 1 Big play= \200, I donated a total of \1000 to the UNICEF vaccination program.
Two very generous supporters also donated to this great cause...
I would like to especially thank Mr. Tomohiro Takagi (高木智宏様) for donating a very generous \6000 for childrens vaccinations all over the world.
Our grand total for the first game was \8000.
With this \8000, 400 children are able to recieve vaccinations that could very well prevent illnesses and save lives. I encourage everyone out there that reads this blog to support this cause.
Remember that for every \2000, 100 children are able to recieve vaccinations. Every little bit helps...
-Thank you again
GO SEAGULLS!!!
Next game: 5/17 (日) 14:00 vs. Meiji Yasuda Pirates @ Kawasaki kyujo
------------------------------------------------------------------------------------------
「注射400本」
こんにちは。
先週の火曜は大雨の中、川崎まで応援しにきていただいて感謝しています。
内容は良くなかったけれども、私達は初戦に勝つことができました。
私のチームはまだ成長過程にあるし、私達がチャンピオンチームになるために改善すべきことが
いくつもあります。
ディフェンスが3点取られたことは少し残念ですが、今私たちにできることは失敗から学ぶこと、
よくなること、そして同じ失敗をしないことです。

試合の個人記録によると、この前のゲームで4タックルと1ビッグプレーを記録しました。
1タックル=200円、そして1ビッグプレー=200円なので合計1000円をユニセフの
ワクチンプログラムに寄付することができました。

このすばらしい運動に寄付をしてくれた2人の寛大なサポーターがいます。
世界の子ども達のために6000円の寄付をしてくれた高木智宏様、本当にありがとうございました。
(もう一人は匿名で寄付していただきました。ありがとうございました)

初戦での寄付金は合計で8000円になりました。
これで400人の子ども達が病気から命を救うワクチンを受けられます。
私はこのブログを読んでくれている皆さんにもこの運動に参加してほしいと思います。
2000円で100人の子ども達がワクチンを受けられることを覚えていてください。
皆さんのほんの少しの援助で・・・。
あらためて感謝いたします。
ゴー、オービックシーガルズ!
次の試合は5/17(日)14時から、明治安田パイレーツと川崎球場で対戦です。
--------------------------------------------------------------------------------
  (事務局より)
   ⇒(2008年10月NEWS)ケヴィン・ジャクソン選手の取り組みについて
   ⇒日本ユニセフ協会・ユニセフ募金のお申し込み (the Japan Committee for UNICEF )
   ⇒ご寄付いただいたら、こちらからお知らせください ⇒inquiry form
2009年05月03日
Unicef Vaccination Program
The start of the season is here! The off-season went by so fast...
I'm excited and I hope you all are excited too...
This season I plan to continue the unicef vaccination program that we started
last season. I will make a donation following each game.
The amount of each donation will vary according to a play chart that I feel is appropriate for this program. Depending on my statistics the amount of eachdonation will be different from week to week.
The play chart is as follows:
Touchdown :¥1,000
QBsack :¥500
Interception :¥500
Blocked kick :¥500
Forced fumble :¥200
Fumble recovery :¥200
Tackle :¥200
QB hurry :¥200
Please partner with me and let's make a difference in the lives of millions
who are less fortunate than us.
-Thank you
GO OBIC SEAGULLS!!!
---------------------------------------------------------------------------------
いよいよアメフトシーズンがスタートします。
シーズンオフはすごく早く過ぎました・・・。
私はエキサイトしています。そして皆さんもそうであると願っています。
私たちが昨シーズンから始めたユニセフにワクチンを寄付するプログラムを今シーズンも
各ゲームで続けていきます。
今回からプレーによって以下の通りに寄付金額を変えてあります。

タッチダウン :1,000円
QBサック :500円
インターセプト :500円
キック(FGなど)のブロック :500円
ファンブルの誘発 :200円
ファンブルリカバー :200円
タックル :200円
QBハリー(プレッシャーをかけQBに投げ急がせること) :200円
試合後の私の個人記録により寄付の量は異なってくるでしょう。
是非、私とパートナーシップを組んでください。
そして、私たちほど幸福でない数百万の命にとって、それがすごく重要なのです。
ありがとうございます。
ゴー、オービックシーガルズ!
--------------------------------------------------------------------------------
  (事務局より)
   ⇒(2008年10月NEWS)ケヴィン・ジャクソン選手の取り組みについて
   ⇒日本ユニセフ協会・ユニセフ募金のお申し込み (the Japan Committee for UNICEF )
   ⇒ご寄付いただいたら、こちらからお知らせください ⇒inquiry form
2009年03月24日
Flag football
I had a lot of fun this past weekend with all of the young flag footballers.
Being out there with the kids brings back a lot of old memories.
I began my football career playing flag football in a park league when I was in elementary school. It was a blast...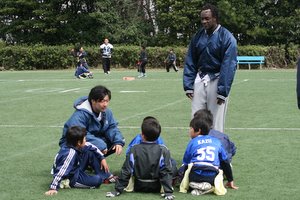 Nowadays if I'm involved in flag football, It's usually in a coaching role or helping out with some of the teams.
This past weekend I helped out a little bit with the boys from Mita in a tournament that was held at our team's facilities. We did well and had a strong team, but in the end we lost in the Championship game to another team that was pretty good too.
I was proud of the boys and how they played all day. They played hard and never gave up. Although we didn't walk away with a trophy, I'm pretty sure the boys had a fun and that's what flag football or any other sport for that matter should be all about...

Good Job Guys!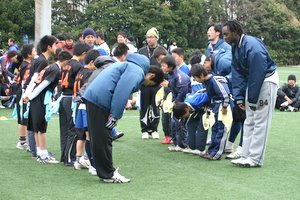 先週は若いフラッグフットボーラーたちと楽しい時間を過ごしました。
子供たちと一緒にいて、古い思い出がたくさん出てきました。
私のフットボールキャリアは小学生の時のフラッグフットボールの公園のリーグから始まりました。
すっごく楽しい思い出です。
最近、フラッグフットボールに触れる機会があるときは、コーチやヘルパーとして参加しています。
先週はシーガルズのグラウンドで行われた大会で三田からきたチームのヘルパーをしました。
うちのチームは強かったし、活躍もしたけれど決勝で他の強いチームに負けてしまいました。
うちのチームの少年たちのその日のプレーを誇りに思います。
一生懸命プレーしたし、決して諦めなかった。
トロフィーを持ち帰ることはできなかったけれども、フラッグフットボールにしても、他のスポーツにしても
楽しむことが本質なのです。
グッジョブ、チーム三田のみんな!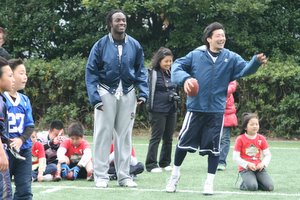 2009年03月09日
The New Season
We've begun our off-season program, and I must say it's not an easy one.
We are working very hard trying to get better and form a Championship team.

It feels good to be back out on the field, and I can't wait until we get a chance to strap it up and get out there with some of the other teams.
This year should be a lot of fun.

I've been chosen to represent the defense as vice-captain this year and I will do my best to make sure that the guys on the defensive side of the ball don't dissapoint.
I hope you all are just as excited about this new season as I am....
We won't let you down..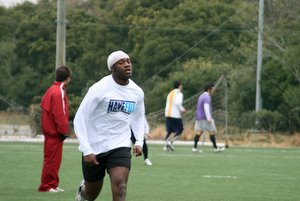 オフシーズントレーニングが始まりましたが、メニューは決してやさしくないです。
チャンピオンシップチームを作るため、もっとうまくなるために、とてもハードな取り組みをしています。
フィールドの中に戻るのは、とても気持ちいい。防具をつけて他のチームと戦うのがとても楽しみです。
今年は楽しいことがたくさんあるはず。
今年はディフェンスの代表としてバイスキャプテンをやることになりました。
ディフェンス側の奴ががっかりしないように、最善を尽くします。
新シーズン、ぼくたちと同じようにエキサイトしてください。
がっかりさせませんよ。
2008年11月11日
Denko
I'm really looking forward to this week's game.
We have an opportunity to avenge last year's triple overtime loss,
and more importantly send a message to teams around the league.
We've had some tough breaks, but I believe that our team is better than what our record says...
This is a big game and I hope to make a lot of big plays leading to a big win!!!
Thank you for your support!!!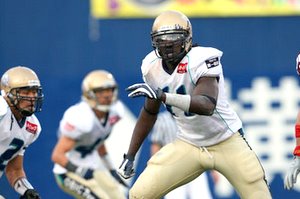 今週の試合、本当に楽しみです。
昨年の3回のオーバータイムの負けのリベンジをする機会を得られました。
そしてXリーグの他のチームにも強さを見せたいです。
今まではいろいろありましたが、自分たちの戦績よりいいチームだと信じてます。
今回は大試合、たくさんのビッグプレーでチームを勝利に導きたいです。
応援してくれて、ありがとうございます!!!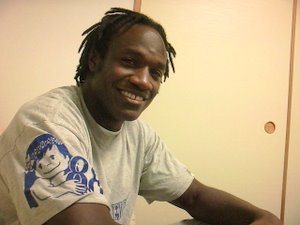 2008年11月01日
The biggest game
The biggest game of the year so far is on Sunday. It's excitng and I can't wait to get out there and play.
Kajima is a good team and we're going to have to bring our "A" game to win.

We won our last game 59-7. I wasn't able to do much on defense, but I did get a chance to run in 2 touchdowns down in the red zone...

With the 2 touchdowns and support of our fans we were able to raise another ¥12,000 for our UNICEF campaign. I want to thank our 3 donors from last weeks game for their contributions. Special thanks to Mr. Kenji Nakamura who was able to donate ¥4,000. That brings us to a season total of ¥32,000... Thank you again!!!

There should be a lot of big plays in this weeks game and hopefully we can raise a lot more for UNICEF and vaccinations for children all over the world....

2 QB sacks + 4 Touchdowns = 1,600 vaccinations
今までの一番のビッグゲームがこの日曜日にあります。
プレーするのがすごい楽しみで、ワクワクしています。
鹿島はいいチームなので、勝つためには最高の試合をしなければなりません。
前節は59-7で勝ちました。
ディフェンスではあんまり活躍できなかったけど、レッドゾーン(ゴール前)オフェンスで
2TDランでとりました。

2TDできて、いろんなファンのサポートで12000円ユニセフキャンペーンに寄付することができました。
先週のゲームで寄付してくれた3人の方に感謝します。
ナカムラケンジさんは4000円寄付していただき、ありがとうございます。
今シーズンの合計は32,000になりました。
改めて感謝いたします。
今週の試合でもビッグプレーをしますので、ユニセフを通して世界中の子供たちにワクチンを
与えるために、たくさん寄付できればうれしいです。
2QBサック+4TD=ワクチン1600本分です。
                ⇒K.J.の取り組みについて 事務局からのお知らせ(寄付の方法など)
2008年10月19日
Hello...
It's already the fourth game of the year. We're off to a 4-0 start,
and we seem to be getting better week after week.

We won our last game 59-7. We played pretty well on both sides of the ball.
We made a few mistakes here and there, but for the most part we played a
complete game.

Our next game is this sunday vs. the All Mitsubishi Lions.
We know that they're going to be fired up and ready to play, so we have to
bring our 'A' game. It should be an interesting game. I'm looking forward to
strapping it up and making some plays.
I hope many of you get a chance t o check us out....
I was unable to get a QB sack in last weeks game, but I was able to make
two touchdowns on offense. The good news is that we were able to raise more
money for UNICEF and children's vaccinations.
This past week two people along with myself donated \4,000 (\2000 per touchdown) to UNICEF.
That's \12,000 for just this past week, \20,000 for the season so far,
and 1,000 vaccinations for children around the world.
Thank you for supporting me and this effort to help the many children who are in
need of medical care.
2008年09月30日
Defense Wins Championships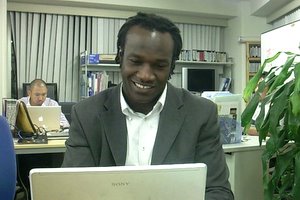 We're already into the third game of the season.It's all going by so fast.
But it's exciting, and we're 2 and 0.

We still have a lot of work to do, but we seem to be playing well together
and finding a rythm. We beat Rocbull 59-0 this past saturday.
We made a few mistakes, but the defense as a whole was pretty aggressive,
racking up 4 sacks, an interception, and a forced fumble and recovery.
Keeping in stride with our opening day game against IBM where we amassed
5 sacks, 4 interceptions, and a touchdown, the defense is looking good.
Our next game is against Tokyo Gas next week. I'm looking forward to
another chance to play and get better as a team. I can't wait!
I was able to get a sack in this past game, giving me 2 for the season
and a total of 4000円(200 vaccinations) for the UNICEF project!
Making plays, and helping to save lives!!!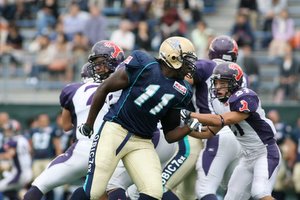 次はもう3試合目です。早いけど、エキサイティングで、ぼくたちは2勝0敗です。
ぼくたちにやれることはまだまだたくさんあるけど、だんだん一体感とリズムがでてきました。
先週の土曜日はロックブルに59-0で圧勝できました。
ミスも少しありましたが、ディフェンスはアグレッシブにプレーできて、4サック、1インターセプト、
1ファンブルフォース&リカバーができました。IBM戦でディフェンスが5サック、4インターセプト、
1タッチダウンで、今回もいいディフェンスができています。

来週は東京ガスと試合です。
チームのみんなと一緒にまたプレーしてうまくなれるのを楽しみにしています。待ちどおしい!
前節では1QBサックできて、今シーズンのトータルは2サックで、ユニセフのプロジェクトは
合計4,000円(ワクチン200本分)になりました。
活躍して、命を救いたいです!!!
                ⇒K.J.の取り組みについて 事務局からのお知らせ(寄付の方法など)
2008年09月21日
QBサックで寄付します!
2008年06月23日
お久しぶりです
Aloha...
I'm sorry... You haven't heard from me in a while.
Nothing in particular has changed much. Getting use to married life,
working hard, and training for the upcoming season.
I have been reading a interesting book lately. I recommend it for all of you
out there who are interested in the world of finance and its many mysteries.
The name of the book is "Warren Buffet- The making of an American capitalist."
It's a interesting read. I'm just getting into the investing scene and trying to
get as much information as possible about how things work.
If any of you out there have any advice, please get in contact with me and
let me know what's up. I'm all ears....
For my readers out there who are unable to follow along with me in English,
I will try to attempt to write a few japanese blog entries from now on...
◆日本語版 (訳/KJ、KJの奥さん)◆
アロハ・・・。
すみません・・・。 しばらく何も書いてませんでした。特に変わったことはないです。
新婚生活は慣れてきて、一所懸命仕事して、今シーズンにむけてトレーニングがんばってます。

最近、おもしろい本を読んでいるんですよ。
ちょっと難しいけど、ファイナンスに興味がある人にはお勧めです。
「Warren Buffet- The making of an American capitalist」という本です。
おもしろく読めますね。ファイナンスについて勉強を始めたばっかりで、
ファイナンスの世界で学びたいことがたくさんあるので、もし誰かアドバイスがあれば
是非教えてください。何でもお願いします。。。
ぼくのブログを読んでくれてる人で英語が苦手な方、
次からはがんばって日本語でも書きます!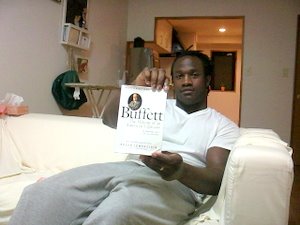 2008年04月22日
Presidential Race
The all important Pennsylvania primary is tomorrow. I'll be following the race via the internet. Can't wait until this thing is finally over and the democratic party can get behind it's candidate and start preparing for the general election. By the way I'm an Obama supporter...

Obama 08'
NFL Draft
Hello everyone.....

It's been a while since I've been on this thing...
Nothing much has changed since the last time I talked to you guys.
Working out, eating, preparing my body again for another long year of football.
THe NFL draft is coming up this weekend. It should be interesting to see what happens.
Which teams will come out on top, and which teams will shoot themselves in the foot remains to be seen...
It should be a few guys from the University of Hawaii getting drafted this year. I'm cheering for all my young Warriors.... Good Luck!
2008年03月09日
I got hitched...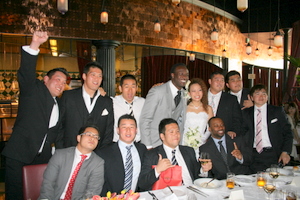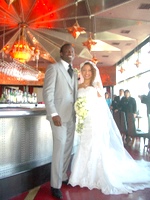 Hello everyone... It's been a while since I've written a blog.
A lot has happened in the last few months or so.. My hair has gotten a little longer, but more importantly I got married.

I've been pretty busy running around trying to get things together for the ceremony and reception and other parties associated with the wedding.
At the end of february we held the ceremony in a cathedral on the beautiful island of Oahu. After we came back from Hawaii we had a reception and after party in Tokyo.
It's taken a lot of patience and hard work to get everything done, but it couldn't be done without the support of our wonderful families and friends.
Thank you everyone...
Here's a picture from the reception. Me and the Mrs. along with some of the guys.....
2008年02月09日
HAIR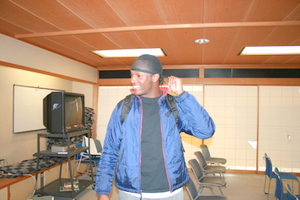 I've been growing out my hair for the last year or so, and I've been trying to figure out what to do with it for the last few months. I decided the a few weeks back to go with dreadlocks. Once you dread it, there's no going back. The up keep is difficult, but it been fun watching my little locks grow little by little. To answer a question that I've been asked on many occasions, Yes; you can wash dreadlocks. I just washed mine a few minutes ago and cleared away some mess, and I think they grew about another inch or so(a few centimeters).
I'm looking forward to seeing how long they'll get. The goal is to have them banging out of the back of my helmet in the fall....
2008年01月22日
NEXT LEVEL ◆TRY‐OUT EDITION3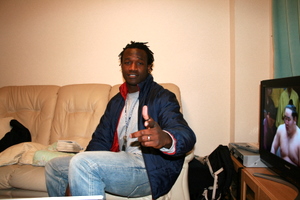 We, the Obic Seagulls are a passionate group of guys who love playing football.
We have a rich football tradition here in Japan, and we are looking to build on
that tradition this 2008 season with another Rice Bowl championship.
We're taking football in Japan to the next level. It's not just good enough to win the
Rice Bowl. We want to build a team that is capable of challenging teams in America.
We believe we can do that, and we are looking for players who want to be apart of
what we believe is a special team and what will be a special 2008 season.
2008年01月16日
The Play-offs
Happy New Year...
I hope that everyone enjoyed the holidays...

It is officially the offseason and I'm sure everyone is back to hitting the weights,
running, and getting ready for a run at the title in the fall.

For most of this football season, I wasn't able to catch many of the NFL games on TV,
because we were busy with practice and/or games...
Recently I've been able to catch up with some of the play-off action,
and it has been very exciting to say the least.
The play-offs have been full of big plays, crazy weather, upsets, and even off the field drama...

I must admit that I have climbed on the Patriots band-wagon, and I hope that they win the whole thing.
I must also say that I'm very suprised to see San Diego and New York in the Conference championship games.
If I were a betting man, I would probably put my money on seeing a Patriots-Packers Superbowl
but you never know what can happen in the crazy world of the NFL.
Who would've thought that the Colts would be at home this week???

If you can, try and check out the Conference championship games.... They should be full of a lot of excitement

Go Pats!!!
2007年11月14日
日本一へ
1.Champions enjoy hard work Serve practice, multi-ball, footwork drills, running, weightlifting and video analysis aren't always the most fun activities, especially after a tough loss. However, approaching these tasks with vigor will provide a springboard that will let you leapfrog the competition. Champions use tournament results as feedback to adjust their workouts and goals. The day after a rough tournament, don't be surprised to see a champion be the first to arrive at practice and the last to leave. During practice, each point should be treated with value, and nothing should be taken for granted.

2.Champions plan for success Remember that failing to prepare is preparing to fail. But, what is your plan for success? Do you intend to cram on Friday night before a tournament or hope to "get hot" in the final in order to achieve success? Champions don't hope for victory; they plan for it. Becoming a champion takes time and requires thoughtful planning. Create measurable goals with timelines that are realistic based on your performance and rate of improvement. Write down your daily, monthly, and yearly goals, and place them in your racket case to review before and after each time you play.

3.Champions are confident and optimistic We play the ultimate individual sport: there is no one to hit a homer while you are on base or sink a free throw while you are on the bench; the ball is in your hands, and hopefully, on your racket during each rally. You must believe in yourself, if you expect to succeed. Champions know that with proper preparation they will play their best, and thus they can rightfully believe they can come out on top. When the score looks bleak, they know it only takes one point to start a great comeback. If someone just pulled off an upset, interact with them. Ask them how they did it. Their positive energy will be contagious. At practice, look to associate with players that have self-confiden ce and high expectations. Negative thinkers and pessimists are powerful energy zappers that should be avoided at all costs at tournaments.

4.Champions visualize success If you can imagine it, you can achieve it! Champions understand the importance of mental imagery and visualization. This is a common skill most youngsters have until adults begin to tell them that they can't do something. Prior to practice and competition, it is prudent to daydream about the perfect performance. Find a quiet place to relax and close your eyes. Imagine hitting that winning shot against Waldner or beating an upcoming opponent. The more vivid the imagery, the more powerful the impact. Your subconscious mind doesn't know the difference between real and imagined events.

5.Champions are consistent Champions know that success is the direct result of commitment and discipline. After a successful tournament, when it would be easy to take it easy, champions don't break their stride, and often take it up a notch. During events, champions know how to run their own mental program during matches, and don't wait until it is too late to make adjustments. Champions don't get too excited when they perform their best nor get too nervous when they aren't playing well. The key to being consistent is playing within oneself and not attempting risky moves that aren't dependable at crunch time.
6.Champions are focused Champions know that you can train hard and prepare well, but if you don't have 100% concentration during competition, the chance for success will be haphazard. Before important matches, leave the building, take a break, clear your mind, and start to get focused for a point-by-point war. If you can win the battle of minds, you can play relaxed and at ease, but your attention must be on the task at hand. When your mind starts to wander, use a dependable technique like breathing control to re-focus your atten tion. Revisiting your written goals on a regular basis will make sure that you are always focused on your long-run success.

7.Champions are creative Champions understand the need to think outside the box and to create their own unique style and strategy. Always following the lead of others, or becoming a carbon copy, is a recipe for mediocrity. Be original. Have your own set of serves. Learn from the best players. But, modify their skill set to fit your needs. Don't be afraid to add parts of other games into your own unique style.

8.Champions never quit Far too many comebacks have been lost when players gave up a point too early. In our new eleven-point scoring system, amazing comebacks are at hand, if one is willing to believe the game is never over. Momentum is huge in table tennis, and failure to give an inch on the final
point of a game will often lead to a shift in momentum for the remainder of the match. Regardless of the score, a champion knows anything can happen, in either direction.

9.Champions help others Champions know that by helping others you are helping the game. Coaching or encouraging others before or during a tournament will only help you in the long run. Don't be afraid after a match to speak with your opponent or their coach to share thoughts on what happened. While all of us enjoy easy victories, it is the hard-fought matches that stay with us the longest. When practicing, much can be gained by working with lesser players in the areas of consistency and control.

10.Champions love the game The final trait that champions possess is a love and respect for the game. They recognize the past champions for their greatness and look to them for inspiration and guidance. Even when doing something else, champions figure out a way to tie it to the sport and use it to help their skills improve. With a love of the game comes the enjoyment of a difficult challenge. This desire and need to be tested will allow you to be at your best when your best is needed.



2007年10月22日
My Boys Travis and Derrick
Recently I've been able to catch some NFL games on TV....
It's good seeing some of my boys finally getting their shot.
I've played with and against a lot of guys that are playing on Sundays now, and it's funny watching them out there playing but two guys in particular have really gotten my attention this season.

I used to play quarterback in high school.
My running back from that team now plays running back for the New York Giants....
This guys has been through a lot, transferring schools, getting looked over, cut, and now he's finally gotten an opportunity to show people what he can do.
After Brandon Jacobs went down in week one, Derrick was named the starter, and played like a mad man the first five weeks of the season.Brandon came back last week, so the Derrick is not the feature guy anymore, but he is definately a key member in the Giants backfield rotation.
If you ever get a chance to check out a Giants game, be sure to keep an eye on my boy #34 Derrick Ward.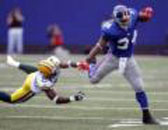 My other compadre is my good friend and roommate from college, the Tennessee Titans' Travis Laboy...
The Titans are having a pretty good year so far, and from the little that I've seen Travis isn't doing so bad either.
He has a couple of sacks on the year, and I believe that he's just getting started.
We both played Defensive End at the University of Hawaii.
I talk with him from time to time and he said that if he gets a chance he would like to come and visit Japan.
He's looking sharp coming off the edge, and I wouldn't be suprised if we start hearing his name called a lot in the latter half of the season.
All you defensive lineman can learn a little bit by watching my man Travis.
If you get a chance please watch for the Tennessee Titans' #91 Travis Laboy...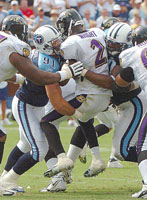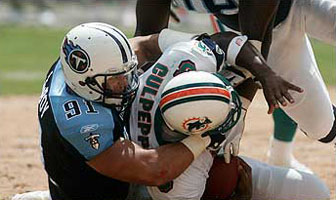 2007年09月12日
Opportunity
Dvd's have been on sale for the last couple of weeks at the Seiyu just
down the street from my apartment. I found some pretty cool movies. Movies
that my generation would consider classics. Movies like Goonies, Indiana
Jones and the temple of doom, The empire strikes back, and The last dragon
just to name a few. I would love to talk about all of the different flicks
I bought and how they stir up a lot of childhood memories, but being that
this is a blog on the Seagulls homepage, I have to tie this into football
somehow...
One flick that I've watched a few times over the last couple of weeks is
Rocky. I wasn't even born when it was first released, but I remember
watching it with my Dad on video when I was younger. I hadn't seen it for
years and I didn't remember a lot of the details in the plot, but I was
suprised to see that it was a well made film. The cinematography was great,
the music second to none, and the makers did a great job of presenting the
characters and forcing the audience to empathize with their challenges and
hardships. Not only was the film entertaining it was inspirational.


Being an athlete myself, I always find it helpful to read inspirational
books, watch inspirational documentaries or movies, etc. Just as Rocky was
challenged with different things, so am I challenged with certain things.
Just as the opportunity presented itself to him, so will I have an
opportunity to do something great. What I learned is that we have to make
the most of the chances we get. We never know if or when we will get
another chance. We have to prepare and ready ourselves for when that moment
comes.
We as a team have an opportunity to do something great this year. This
monday is another chance. Individually let's set our goals and standards
high. Do something we have never done before. Let's make the most of it....

GO OBIC SEAGULLS!!!
2006年 シーガルズ54-22富士通
2005年 シーガルズ35-14富士通
2004年 シーガルズ27-24富士通
2002年 シーガルズ14-7 富士通 (東京スーパー)
2001年 シーガルズ24-14富士通 (Final 6)
1998年 シーガルズ21-19富士通
1993年 シーガルズ31-20富士通
2007年09月10日
Football season has begun
Football season has begun...
This is the best time of year. I can't stop thinking about football.
It felt good to get back out on the field the other day.
After practicing and beating up on eachother for the last few months or so, we finally got a chance to hit some guys that we don't know.
Things didn't go as smooth as we might have planned, but we came away with the win and that's all that matters...
I'm really looking forward to our next game.. It should be fun.
I'm predicting a lot of fireworks...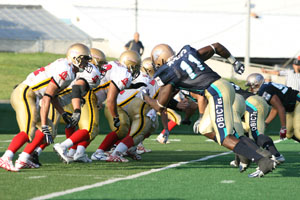 ▲ハワイ大学時代の背番号11番に変更したKevin Jackson(事務局掲載)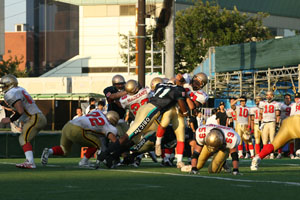 ▲ルネサスハリケーンズ戦でQBに襲い掛かるKevin Jackson(事務局掲載)
2007年08月27日
What are champions made of ???
"Champions aren't made in gyms. Champions are made from something they have
deep inside them: A desire, a dream, a vision.
They have to have last-minute stamina, they have to be a little faster, they have to have the skill and the will.
But the will must be stronger than the skill."
-Muhammad Ali
The season is only a couple of weeks away, and I'm sure everyone is just
as excited about this year as I am. We've all been working hard and
preparing for what should be another championship run this year.
We can only stop ourselves.... No team out there is better than us!!!
After the game on January 3rd there will only be on team remaining and that team
should be the team that wears navy and gold. This is our year and we are
THE ONE....
-Kevin Jackson
2005年 X-EAST 1位(5勝0敗)  社会人選手権優勝  ライスボウル優勝
2002年 X-CENTRAL 1位(5勝0敗)  社会人選手権優勝 
1998年 X-CENTRAL 2位(4勝1敗)  社会人選手権優勝  ライスボウル優勝 
1996年 X-EAST 1位(4勝1敗)  社会人選手権優勝  ライスボウル優勝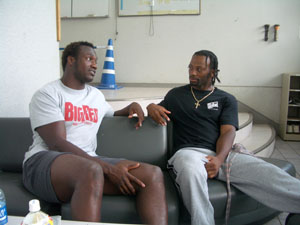 ▲熱く語り合う#11 Kevin Jackson選手(左)と#34 John West選手(右)
(事務局掲載)
2007年07月25日
Shy Boy....???
Other than his name and a few other facts like him being a rookie linebacker with the Seagulls this year and a former stand out player at Ritsumeikan University and the Japanese Nataional team, I don't know much about this guy... I'm talking about Tsukada Masayoshi.
From the little I've seem of Tsukada he seems to be a very quiet and introverted person. We work out together sometimes at Gyotoku's Golds Gym, and we usually ride in Shack's car to and from practice... Everytime I see him he doesn't say much. In the gym, he likes to work out by himself; And in Shack's car he is usually playing with his cell phone, or admiring the scenery through the window. He would describe himself as a guy who likes to keep to himself and not say much.....
Apparently the Tsukada that I have gotten to know over the past few months or so has been lying to everyone. According to the members of the Japanese National team the whole "Shy Boy" act is a bunch of BULL SHIT. I have yet to see him come out of his shell, but from what I hear he talks more than Nakamura coach(And if anyone knows Toshi, that is a whole lot of talking...).
Over these next few weeks I'll be trying to mess with him and get him to open up a little bit. I encourage everyone else who reads this blog to do the same. You can catch up with him at the Gyotoku Golds Gym or at Shack's house.... I'm not sure what number he's wearing this year, but be sure to keep an eye out for the Gyotoku "Fabulous Five's" rookie linebacker.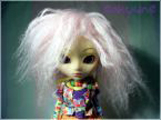 2007年07月23日
Introducing Shack....
Shack...
Nicknamed "Shack" by coach Ohashi because of his somewhat protruding jaw,
he is a lovable and eccentric character. He is a second year player with the Seagulls. He's hoping that this year will be his break out year. Please keep an eye out for #93 come this fall season.
Shack is the guy who takes most of the jokes on the team..... But he is my boy and he is a member of the Gyotoku "Fabulous Five" ( Eda, Tsuka-chan, Shack, John, and KJ). We just wanna thank you Shack for all of the early morning rides and late night comedy. The meat that your pops sends down every once in a while is the shit!!!
And who doesn't love that fresh smell that lingers in the taurus. Because of Shack, John has learned some very important Japanese words such as "shabu-shabu"(this words that John uses daily..)
Just to let everyone know, Shack is killin' the weights and he promises to hold it down at the tackle position this year.
Other tidbits about Shack: likes to surf in his free time, likes listening to reggae music, believe it or not his blood type is A, and he is currently single and looking for love...
Thank you Shack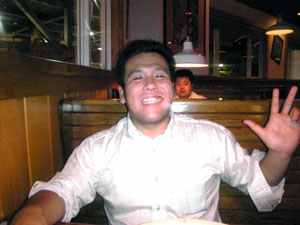 2007年07月05日
training
Arnold Schwarzenegger on training and becoming a champion....
"The only way to be a champion is by going through these forced reps and
the torture and pain. That's why I call it the torture routine. Because
it's like forced torture. Torturing my body. What helps me is to think of
this pain as pleasure. Pain make me grow. Growing is what I want.
Therefore, for me pain is pleasure. And so when I am experiencing pain I'm
in heaven. It's great. People suggest this is masochistic. But they're
wrong. I like pain for a particular reason. I don't like needle's stuck
in my arm. But I do like the pain that is necessary to be a champion."
"A beginner does eight repetitions of a certain exercise with his maximum
weight on the barbell. As soon as it hurts, he thinks about stopping. I
work beyond this point, which means I tell my mind that as soon as it
starts aching it is growing. Growing is something unusual for the body when
you are over eighteen. The body isn't used to ten, eleven, or twelve reps
with a maximum weight. Then I do ten or fifteen sets of this in a row. No
human body was ever prepared for this and suddenly it is making itself grow
to handle this new challenge, growing through this pain area. Experiencing
this pain in my muscles and aching and going on is my challenge. The last
three or four reps is what makes the muscles grow. This area of pain
divides a champion from someone who is not a champion. That's what most
people lack, having the guts to go on and just say they'll go through the
pain no matter what happens. I have no fear of fainting. I do squats until
I fall over and pass out. So what? It's not going to kill me. I wake up
five minutes later and I'm OK. A lot of other athletes are afraid of this.
So they don't pass out. They don't go on."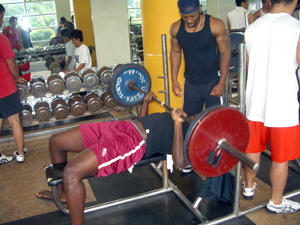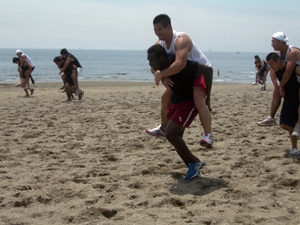 2007年06月28日
Aloha!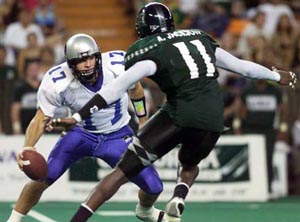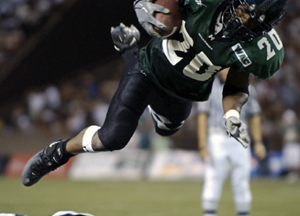 Aloha.....
Welcome to KJ's blog....
I must admit that I wasn't that excited when I was approached by
Eddie(#59 Fujita) and asked to write a blog for our team's homepage.
I rarely spend time on a computer, I'm not to timely when it comes to
returning e-mails, and quite frankly I don't think that I have that many
interesting things to write about. Please bare with me as I try to make
this thing as lively as possible.

As I was surfing the net and looking for pictures to put up I happened to
come across a couple of old pictures of my teammate, John West and myself
back when we were playing together at the University of Hawaii.
The first picture is of me going in for the sack against Eastern Illinois University
quarterback, Tony Romo(Dallas Cowboys starting quarterback).
The second picture is of John diving in for the winning touchdown against Rice University.

I figured you'd be more interested in checking out the pictures than
hearing me blabber on and on... I hope you enjoy them.

Forgive me for not having a colorful and elaborate opening blog, but
hopefully I'll get better as I write a few more of these things....