« 2007年09月 | メイン | 2007年11月 »
2007年10月
2007年10月22日
My Boys Travis and Derrick
Recently I've been able to catch some NFL games on TV....
It's good seeing some of my boys finally getting their shot.
I've played with and against a lot of guys that are playing on Sundays now, and it's funny watching them out there playing but two guys in particular have really gotten my attention this season.

I used to play quarterback in high school.
My running back from that team now plays running back for the New York Giants....
This guys has been through a lot, transferring schools, getting looked over, cut, and now he's finally gotten an opportunity to show people what he can do.
After Brandon Jacobs went down in week one, Derrick was named the starter, and played like a mad man the first five weeks of the season.Brandon came back last week, so the Derrick is not the feature guy anymore, but he is definately a key member in the Giants backfield rotation.
If you ever get a chance to check out a Giants game, be sure to keep an eye on my boy #34 Derrick Ward.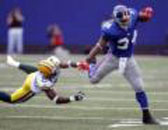 My other compadre is my good friend and roommate from college, the Tennessee Titans' Travis Laboy...
The Titans are having a pretty good year so far, and from the little that I've seen Travis isn't doing so bad either.
He has a couple of sacks on the year, and I believe that he's just getting started.
We both played Defensive End at the University of Hawaii.
I talk with him from time to time and he said that if he gets a chance he would like to come and visit Japan.
He's looking sharp coming off the edge, and I wouldn't be suprised if we start hearing his name called a lot in the latter half of the season.
All you defensive lineman can learn a little bit by watching my man Travis.
If you get a chance please watch for the Tennessee Titans' #91 Travis Laboy...