« Coach KJ! | メイン | The Season Thus far »
Welcome to the Flock Jason!
June 5, 2019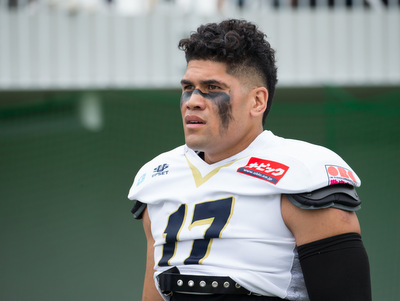 ▲DL#17 Jason Fanaika
Jason, last name Fanaika(pronounced fah-NAee-ka), is the newest American member of the flock. He finally saw his first action last week against Fujitsu, and made a few key stops for us on defense. We are all looking forward to Jason contributing to the defense this year and getting us over the hump.
Jason joins us all the way from the state of Utah. He was a standout at the University of Utah where he played both defensive line and linebacker. Jason is a versatile player that can play multiple positions and do.
It's been fun getting to know Jason over the past few months. He's a fun-loving guy that always greets everyone with a big smile. He is quickly becoming a fan favorite especially with the kids. The more you get to know him the more you'll like Jason. His energy at practice, training, and meetings has been contagious, and he has definitely had a positive impact on the guys.
What's been particularly impressive about Jason so far is his attention to detail and attitude. He always makes himself available to the guys, and tries to help everyone with any questions or concerns they may have. Before practice and after practice you can be sure that Jason will be out on the field talking with the guys about technique or working with some of the younger players trying to tighten up some things with their game. After a stellar career at the University of Utah, Jason had the opportunity to participate in a few offseason camps with several NFL clubs, and was even at one point a member of the practice squad. He brings a depth of knowledge about the game and fundamentals that I think will definitely make us better.
Jason is just getting started, and after getting a game under his belt I'm sure that he will only continue to get a feel for the game and get better. I'll be back to tell you a bit more about how Jason is adjusting to life in Japan, what his favorite foods are, and what he likes to do in his free time in the next addition. For now, please just come out to support him and the rest of the guys at the big game on June 17th.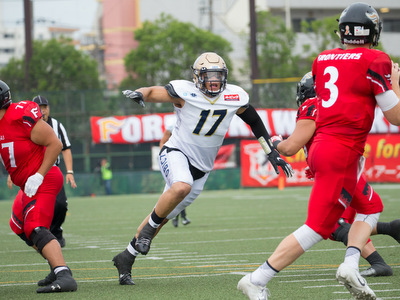 I'll leave you with some of Jason's stats from his late year at Utah courtesy of the Utes homepage.
Honorable mention All-Pac-12 ... played in all 13 games with 10 starts at right end ... 53 total tackles led the linemen and was fifth overall ... 10.5 tackles for loss (second on the team) and 4.0 sacks ... tied for second on the team (fifth in the Pac-12) with two forced fumbles ... four pass breakups ... season-high seven tackles (1 sack) and a forced fumble against Utah State ... six tackles (2.5 TFL) vs. Oregon State ... six tackles with a half sack and a pass breakup against Colorado ... five tackles (1.5 sacks), a forced fumble and pass breakup against Oregon ... five tackles (1.0 TFL) at Arizona ... five tackles (1.5 TFL) vs. UCLA ... three tackles with a sack and two pass breakups in the Las Vegas Bowl vs. BYU.
Fly Seagulls!!!
(Coach KJ)