« Ushering in a new season and welcoming new faces | メイン | Coach KJ! »
Are you not entertained?
June 25, 2018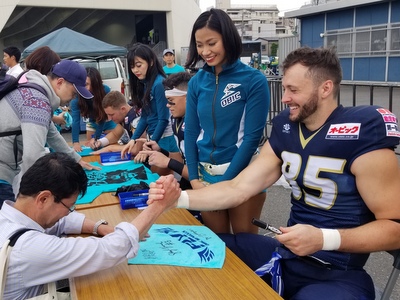 Are you not entertained? Is a question that Maximus, Russell Crowe's character in the blockbuster hitThe Gladiatorasks onlookers after defeating an opponent in a gladiator pit. I now ask you the same question after getting a chance to check out our new guys in action the past few weeks. It is definitely still an adjustment period, but I think our guys are coming along well thus far. Skyler has been a standout and catalyst in getting the offense going the first few games. Holden has been a steady hand both blocking and making key catches. Bronson has made momentum changing big plays in all three of our outings, raking in 3 interceptions and forcing a fumble to cap a goal line stand in our second game.
The Seagulls' new foreign players are making a statement early in their careers. The three spearheaded an effort to beat the defending national champion Fujitsu Frontiers 21-6 in the quarterfinal round of the Pearl Bowl tournament. It was Obic's first victory over the Frontiers since the 2014 Pearl Bowl finale. Both Bronson and Holden would walk away with MVP honors from the second game versus Fujitsu. Some of their plays were key to us securing a victory and a spot in the semifinal game on our way to a second straight Pearl Bowl title. Bronson and the defense would lead the way versus Lixil in the semifinal game. Bronson's two interceptions, and two defensive led special team touchdowns set the tone for a wet, and at times sloppy win over the Deers in the rain.
Skyler has proven to be the new focal point of an offense that has struggled at times in recent memories. Through the first three games the new offense has shown a lot of grit. They have been able to control the tempo and find ways to win. They have put up points fast, and Skyler has gotten it done with both his feet and his arm. Although it is still early in the year our team is starting to gel. Everyone is focused on getting better and taking it one game at a time. Our next game should be an exciting one. Our opposition plays a wide open fast paced brand of football which should make for a lot of fireworks.
Maximus encountered his fair share of excitement along his journey to right a few things he felt were wrong. We are on a similar journey. We're trying to get back to the top after falling short for the past four seasons. Like Maximus, it might not always be a smooth ride but also like the great general we need to stay focused on our goal and make sure that we are constantly working to put ourselves in the best possible position to see that goal realized.
The next stop on our journey is the Pearl Bowl final. Our opponent is a familiar foe. This year's matchup is a rematch of last year's Pearl Bowl final. Last year's game was a tough back and forth battle. IBM is a talented team and we know that we will have to be at our absolute best in order to beat them. We're focusing all of our energy on preparing to beat IBM. This game is a welcomed challenge. We can't wait to get out there and seize the opportunity before us. We hope to see you all this Thursday night!
We are ALL Seagulls!