all
October 23, 2019
The Season Thus far
The season is in full swing and the team is currently on a five game winning streak! We've had our backs against the wall several times, but we have managed to figure it out and find a way to win these first five games. All phases of the game(Offense, Defense, and Special Teams) have had their moments. There are still two more games to go to finish off the regular season. We are going to need all phases to bring their A game in order to win and finish strong.
Our American players have been key to all phases playing well thus far.
Bronson
is currently leading the league in tackles and has stood out in every game on both defense and special teams. His older brother
BJ
, has been a stalwart on defense, making big plays and being a leader both on and off the field. On the other side of the ball
Skyler
has come through with some crucial plays for the offense, making plays with both his arm and his legs.
Holden
had a breakout receiving game vs the Rise seeing career game highs for catches, yardage, and touchdowns. Newcomer
Jason
is continuing to make his transition into Japanese football. He has made significant contributions on the defensive front at both defensive line and linebacker.
▲
DB#21 Bronson Beatty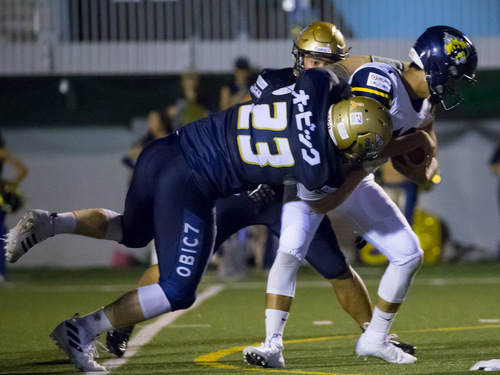 I believe that the teams and the guys are just getting started. Next up on the schedule are two of our biggest rivals, IBM and Fujitsu. We're familiar with both teams and we are looking forward to another opportunity to mix it up out there on the field. Both teams present a challenge, but we are looking forward to that challenge and hope to come away with wins in both games. The guys are focused and taking this thing one game at a time. For now it's on to IBM. This weeks' workouts, meetings and film sessions are all focused on what we need to do in order to be successful vs IBM. Stay tuned for more touchdowns from Skyler to Holden, and lights out defensive play from BJ, Bronson, and Jason.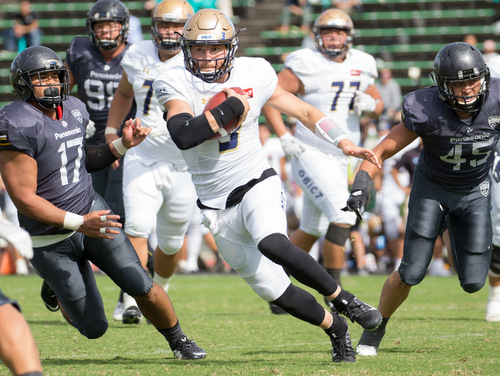 ▲
QB#3 Skyler Howard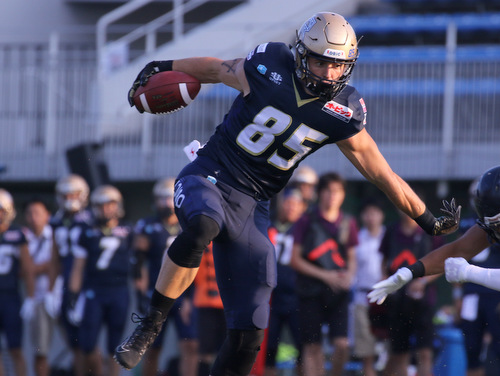 ▲
TE#85 Holden Huff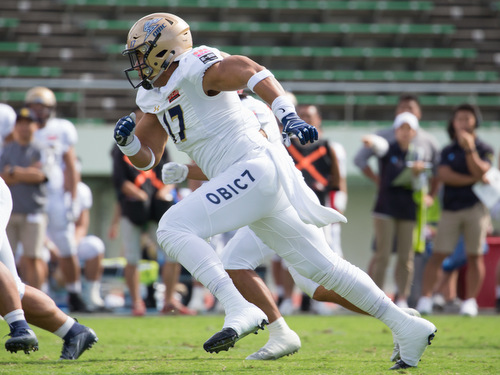 Just us out there will not be enough. We are calling on all of the members of our Seagulls family to focus and prepare together with us. We are looking forward to seeing you all out at the game cheering us on as we take the field. Your support means everything to us, and the roar of the crowd picks us up every time we're out there trying to get points or make a stop. Thank you always and we can't wait to to see you again next Sunday in Yokohama!
We are SEAGULLS!
(Coach KJ)
June 5, 2019
Welcome to the Flock Jason!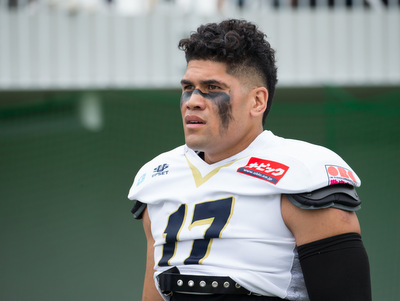 ▲DL#17 Jason Fanaika
Jason, last name Fanaika(pronounced fah-NAee-ka), is the newest American member of the flock. He finally saw his first action last week against Fujitsu, and made a few key stops for us on defense. We are all looking forward to Jason contributing to the defense this year and getting us over the hump.
Jason joins us all the way from the state of Utah. He was a standout at the University of Utah where he played both defensive line and linebacker. Jason is a versatile player that can play multiple positions and do.
It's been fun getting to know Jason over the past few months. He's a fun-loving guy that always greets everyone with a big smile. He is quickly becoming a fan favorite especially with the kids. The more you get to know him the more you'll like Jason. His energy at practice, training, and meetings has been contagious, and he has definitely had a positive impact on the guys.
What's been particularly impressive about Jason so far is his attention to detail and attitude. He always makes himself available to the guys, and tries to help everyone with any questions or concerns they may have. Before practice and after practice you can be sure that Jason will be out on the field talking with the guys about technique or working with some of the younger players trying to tighten up some things with their game. After a stellar career at the University of Utah, Jason had the opportunity to participate in a few offseason camps with several NFL clubs, and was even at one point a member of the practice squad. He brings a depth of knowledge about the game and fundamentals that I think will definitely make us better.
Jason is just getting started, and after getting a game under his belt I'm sure that he will only continue to get a feel for the game and get better. I'll be back to tell you a bit more about how Jason is adjusting to life in Japan, what his favorite foods are, and what he likes to do in his free time in the next addition. For now, please just come out to support him and the rest of the guys at the big game on June 17th.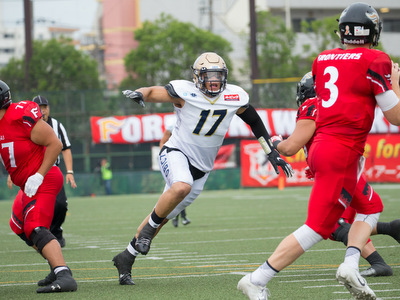 I'll leave you with some of Jason's stats from his late year at Utah courtesy of the Utes homepage.
Honorable mention All-Pac-12 ... played in all 13 games with 10 starts at right end ... 53 total tackles led the linemen and was fifth overall ... 10.5 tackles for loss (second on the team) and 4.0 sacks ... tied for second on the team (fifth in the Pac-12) with two forced fumbles ... four pass breakups ... season-high seven tackles (1 sack) and a forced fumble against Utah State ... six tackles (2.5 TFL) vs. Oregon State ... six tackles with a half sack and a pass breakup against Colorado ... five tackles (1.5 sacks), a forced fumble and pass breakup against Oregon ... five tackles (1.0 TFL) at Arizona ... five tackles (1.5 TFL) vs. UCLA ... three tackles with a sack and two pass breakups in the Las Vegas Bowl vs. BYU.
Fly Seagulls!!!
(Coach KJ)
June 4, 2019
Coach KJ!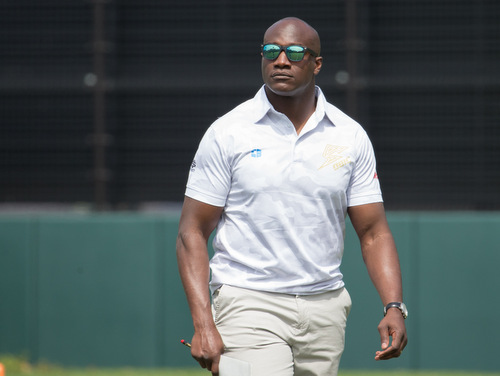 It's good to be back! Another season has begun and the quest to be the best continues. We're off to a good start, and I'm looking forward to a successful season. Things are a bit different this season. There are a lot of new faces, and I am no longer playing. From this season I have decided to join the ranks of the coaches. My job from now on will be to motivate and equip the players to go out there and win.
It definitely feels a bit weird not being on the field and playing. The unfamiliarity however has not taken away from the excitement of the game. Although I'm not playing I am enjoying my new role just as much. It's challenging, but if it was easy it wouldn't be fun right?
I plan to take on this challenge head on and do everything I possibly can to make sure that we finish up the season on top.
Have you all been enjoying the action of the Spring season so far? We have been able to win our first three games, but there is still a lot of work that needs to be done. We've been getting contributions from everyone. Veterans, rookies, coaches, staff… everyone has had a part to play early on, and in order for us to pull this thing off this year it's gonna take everyone selling out all the way until the end to make it happen.
Next up is the Pearl Bowl! It'll be great going back to the Tokyo Dome. This will be my first experience there as a coach. I'm not quite sure how I'll feel out there, but I know for sure that I'll be working my tail off in the coming weeks to be prepared for the big game and the challenges that are sure to arise on the big stage.
Anyway, I can't wait to see you all at the next big game. Feel free to wave and shout as much as you can. We definitely appreciate you all and love it when you guys get all riled up. That just may be the fuel that gives us the edge. See you all on the night of June 17th at the Tokyo Dome!
Fly Seagulls!!!
(Coach KJ)
June 25, 2018
Are you not entertained?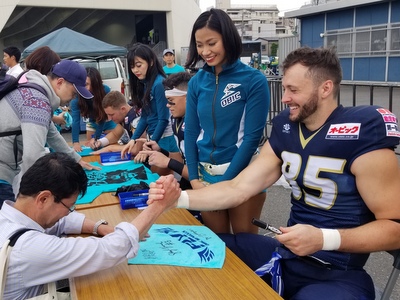 Are you not entertained? Is a question that Maximus, Russell Crowe's character in the blockbuster hitThe Gladiatorasks onlookers after defeating an opponent in a gladiator pit. I now ask you the same question after getting a chance to check out our new guys in action the past few weeks. It is definitely still an adjustment period, but I think our guys are coming along well thus far. Skyler has been a standout and catalyst in getting the offense going the first few games. Holden has been a steady hand both blocking and making key catches. Bronson has made momentum changing big plays in all three of our outings, raking in 3 interceptions and forcing a fumble to cap a goal line stand in our second game.
The Seagulls' new foreign players are making a statement early in their careers. The three spearheaded an effort to beat the defending national champion Fujitsu Frontiers 21-6 in the quarterfinal round of the Pearl Bowl tournament. It was Obic's first victory over the Frontiers since the 2014 Pearl Bowl finale. Both Bronson and Holden would walk away with MVP honors from the second game versus Fujitsu. Some of their plays were key to us securing a victory and a spot in the semifinal game on our way to a second straight Pearl Bowl title. Bronson and the defense would lead the way versus Lixil in the semifinal game. Bronson's two interceptions, and two defensive led special team touchdowns set the tone for a wet, and at times sloppy win over the Deers in the rain.
Skyler has proven to be the new focal point of an offense that has struggled at times in recent memories. Through the first three games the new offense has shown a lot of grit. They have been able to control the tempo and find ways to win. They have put up points fast, and Skyler has gotten it done with both his feet and his arm. Although it is still early in the year our team is starting to gel. Everyone is focused on getting better and taking it one game at a time. Our next game should be an exciting one. Our opposition plays a wide open fast paced brand of football which should make for a lot of fireworks.
Maximus encountered his fair share of excitement along his journey to right a few things he felt were wrong. We are on a similar journey. We're trying to get back to the top after falling short for the past four seasons. Like Maximus, it might not always be a smooth ride but also like the great general we need to stay focused on our goal and make sure that we are constantly working to put ourselves in the best possible position to see that goal realized.
The next stop on our journey is the Pearl Bowl final. Our opponent is a familiar foe. This year's matchup is a rematch of last year's Pearl Bowl final. Last year's game was a tough back and forth battle. IBM is a talented team and we know that we will have to be at our absolute best in order to beat them. We're focusing all of our energy on preparing to beat IBM. This game is a welcomed challenge. We can't wait to get out there and seize the opportunity before us. We hope to see you all this Thursday night!
We are ALL Seagulls!
June 22, 2018
Ushering in a new season and welcoming new faces
The offseason has come and gone. The first three games of the spring season are already over. The process, both the offseason and spring has felt both short and long at times. Throughout it all, we have all been eagerly waiting, preparing, and aggressively taking on the 2018 season. 2017 didn't end the way we had hoped, and the way the season ended has left us with a bad taste in our mouths. The 2018 season brings us yet another opportunity to prove to ourselves, our fans, and everyone paying attention that we are the best team in Japan. We have accepted this challenge, and we are now in the process of working hard to become a complete and dominant team.
It was exciting to finally get out there and play our first few games of the spring season. We are still improving and are always looking forward to opportunities to showcase what we have been working on since the end of last season. There is a renewed spirit and energy around our team, and we are all expecting a lot out of each other. If we can live up to what we expect of ourselves I believe that we will have a successful season. Success for us is nothing less than a national championship. That's the goal and we hope to see you all there with us next January.
Three new faces that you will have to get used to will be those of our new quarterback, tight end, and defensive back.
Skyler, our new quarterback, joins us from he great state of Texas. They do things big in Texas, and we are looking forward to seeing Skyler's big arm and athleticism in action throughout the season. He was a standout at the West Virginia University. Starting for 3 seasons, leading his team to successive winning seasons, and putting up big numbers against some of the best defenses in the NCAA. Skyler has been the focal point of our revamped offense, and has guided the new look Seagulls to three victories thus far this spring.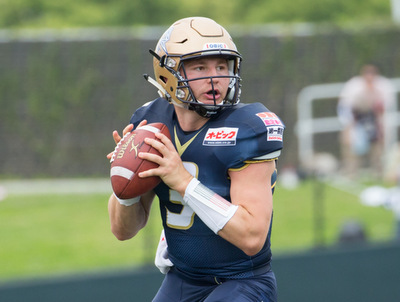 ▲QB#3 Skyler Howard
Holden, our new tight end, enjoyed on field success at his alma mater, Boise State University. There, Holden started for four seasons and was an integral part of The Bronco's top tier offense. Holden is a California native, and is already very proficient in Japanese. Holden too has started his career with the Seagulls on a strong note, making key blocks and coming down with a few crucial catches in his first few games in action.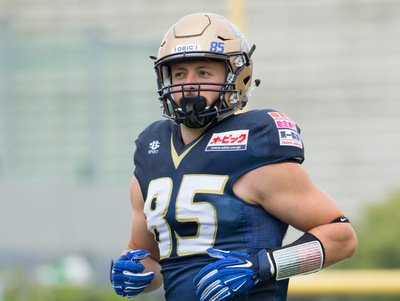 ▲TE#85 Holden Huff
Our last American new comer is the younger brother of defensive end BJ Beatty, Bronson Beatty. Bronson joins the Seagulls after a stellar career at Japanese collegiate powerhouse Nihon University. Bronson's presence on the field and big play making ability was one of the main factors that led to Nihon University's 2017 title run that recaptured the crown after a 27 year hiatus. Bronson has also excelled in his first few games with the team by making multiple interceptions and tackles in key situations. We are excited about what his game brings to our defense and how his play allows us to take more risks and be creative.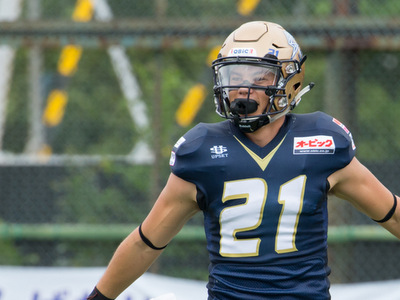 ▲DB#21 Bronson Beatty
Skyler, Holden, and Bronson have been hard at work getting adjusted to not only to the team, but life in Japan. The are making gains both on and off the field and we are excited about their future with the Obic Seagulls.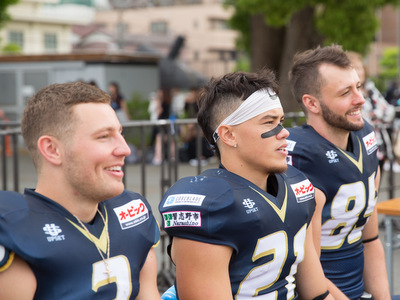 We look forward to seeing you all at our next big challenge; the Pearl Bowl final. We are extremely excited about the opportunity that lies before us. We have a chance to repeat as Pearl Bowl champions and exact revenge on the team that beat us in the 2017 fall season opener. It doesn't get more exciting than that. We hope all of you are excited as well.
Go Seagulls!
June 16, 2017
Team Fighting Voice 'FLY OBIC SEAGULLS'

The phrase 'FLY OBIC SEAGULLS' and the statement behind the phrase is what this team is all about.
Never staying grounded and always aspiring to fly higher. Fly above the fray and beyond all expectations. We pride ourselves on being a team that consistently challenges the norm and pushes the limits.
We would like to encourage everyone in the Obic Seagulls family to join us in our quest to be the best. With one heart and one voice let's Fly!
【FLY Statement】
FLY OBIC SEAGULLS
Fly
Hearts and minds placed upon the wings
Deliver
The voices deep within our spirit
Transcend
Faster, Higher
Over and beyond the highest peak
We are also excited about our new theme song. It will include our fighting voice, sung over a solid rhythm and melody that we hope you all will come to love.
We encourage you all to sing along as you cheer on your favorite team!
We Are Seagulls !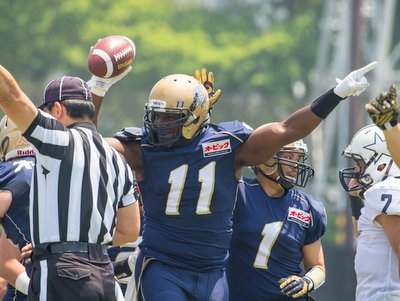 (DL#11Kevin Jackson)
April 25, 2017
Debut of the 2017 Flock
The 2017 season got off to a great start with perfect spring weather and a steady stream of Seagull touchdowns. Behind a near perfect outing by rookie quarterback #12 Ikaika Woolsey, the offense amassed 381 total yards in route to a 65-0 victory over the Meiji-Yasuda Penta-Ocean Pirates. Ikaika impressed with both his big arm and his ability to get outside of the pocket and run. In total, he would account for 5 touchdowns. Four through the air and one 11 yard run. Back up quarterback #6 Shun Sugawara would add to the score in the second half with a touchdown toss, followed by a touchdown run by rookie running back # 41 Keita Naruse, and a kickoff return touchdown by #18 Noriaki Kinoshita. The Seagulls defense added to the dominant performance by holding the Pirates offense to 99 total yards and racking up 5 sacks, 4 batted balls, and 1 interception.
It's always good to start off the season on a high note. We're taking it one game at a time. The plan is to continue to build and grow. We believe that the culmination of these efforts will lead to a championship. That's what we're working toward, and that's our goal.
We are feeling great and can't wait to get back out there and do it all over again. None may be feeling better than defensive end #23 B.J. Beatty who not only had a standout defensive performance, but also successfully proposed to longtime girlfriend in a postgame gala that attracted just as much if not more attention than the game itself.
We are all looking forward to seeing everyone again on May 21st for our second game against the Asahi Beer Silver Star! Seagulls nation was out in force this past game, and we are hoping to see the stands packed again for the next go around.
Thank You!
We Are Seagulls !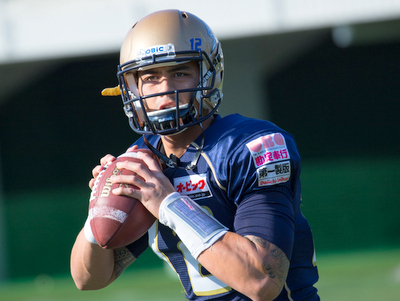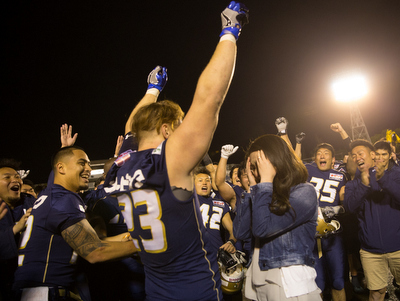 (DL#11Kevin Jackson)
April 17, 2017
New member of the Flock
It is my pleasure to introduce to you the latest international edition to the Obic Seagulls organization. This season we will be joined by a fresh, young, and very talented quarterback from the University of Hawaii.
Ikaika Woolsey has joined our team, and is looking forward to the challenge of leading the Obic Seagulls offense to greatness in 2017. Originally from northern California, Ikaika was a standout at the University of Hawaii where he played for three seasons against some of the best defenses in the country. Ikaika is a well rounded quarterback. He has a cannon for an arm, is physically strong, and is mobile when he needs to get out of trouble. The addition of Ikaika has greatly improved our offense. He is definitely a threat both with his arm and his legs.
We are all anxiously looking forward to home showcasing what he can do out there once the whistle blows for kickoff this Sunday.
Remember the name Ikaika Woolsey!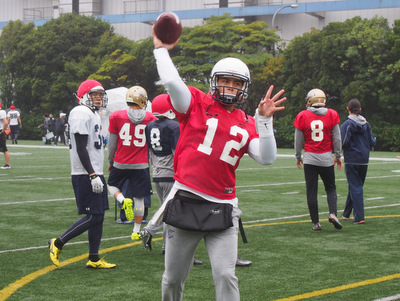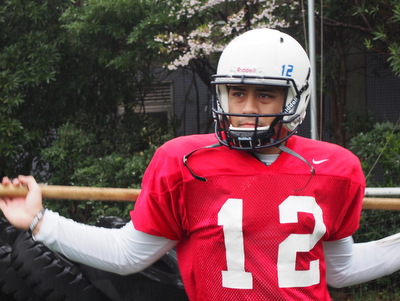 (DL#11Kevin Jackson)
We Are Seagulls !
This coming Sunday will be the first opportunity for us, the 2017 Obic Seagulls to showcase what we've been working on for several weeks. The team is full of optimism and everyone is looking forward to finally getting out on the field and letting loose. We believe that last season under new head coach Kosho marked the beginning of a new chapter in the story of the Obic Seagulls organization. Although that chapter begun on a high note, we were unable to achieve the ultimate goal of winning a championship. This season we are focused on finishing the job and achieving that ultimate goal. The American Seagulls will be an integral part of the effort to reach the top. Coach Dan along with #11KJ, #23BJ, #51Kai, and #12Ikaika will continue to carry the torch and lead by example.
The team slogan this year again is "We are Seagulls". There are many meanings that can be derived from this phrase, but I want to focus on one particular interpretation here. The term "We are Seagulls" carries a sense of depth and pride. Our team's history speaks for itself, and our organization's DNA has propelled us to be on the cutting edge of many developments in the world of football in Japan. "We are Seagulls" means excellence, and we are proud of that excellence.
We are hoping for a 2017 season full of excellence. We want all of our fans and supporters to expect no less, and continue to push us to improve. It all starts this week. We look forward to seeing you all at our game cheering us on. I promise an exciting game, full of a lot of big plays and action. For those of you who are unable to watch live, we plan to have a post game write up published on this site sometime following the game.
Thank you.
We Are Seagulls!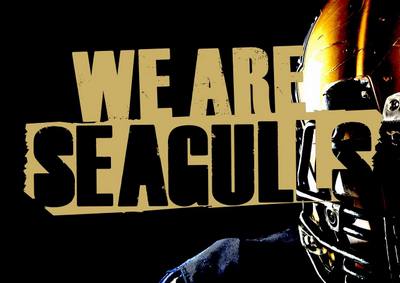 (DL#11Kevin Jackson)