« Are you not entertained? | メイン | Welcome to the Flock Jason! »
Coach KJ!
June 4, 2019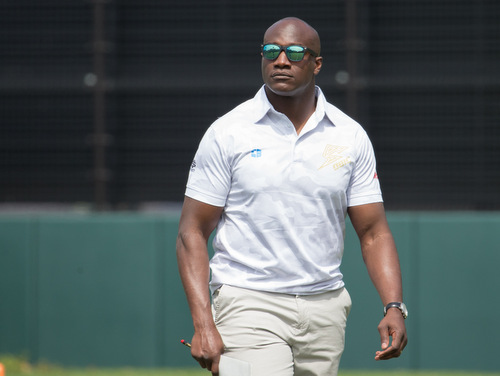 It's good to be back! Another season has begun and the quest to be the best continues. We're off to a good start, and I'm looking forward to a successful season. Things are a bit different this season. There are a lot of new faces, and I am no longer playing. From this season I have decided to join the ranks of the coaches. My job from now on will be to motivate and equip the players to go out there and win.
It definitely feels a bit weird not being on the field and playing. The unfamiliarity however has not taken away from the excitement of the game. Although I'm not playing I am enjoying my new role just as much. It's challenging, but if it was easy it wouldn't be fun right?
I plan to take on this challenge head on and do everything I possibly can to make sure that we finish up the season on top.
Have you all been enjoying the action of the Spring season so far? We have been able to win our first three games, but there is still a lot of work that needs to be done. We've been getting contributions from everyone. Veterans, rookies, coaches, staff… everyone has had a part to play early on, and in order for us to pull this thing off this year it's gonna take everyone selling out all the way until the end to make it happen.
Next up is the Pearl Bowl! It'll be great going back to the Tokyo Dome. This will be my first experience there as a coach. I'm not quite sure how I'll feel out there, but I know for sure that I'll be working my tail off in the coming weeks to be prepared for the big game and the challenges that are sure to arise on the big stage.
Anyway, I can't wait to see you all at the next big game. Feel free to wave and shout as much as you can. We definitely appreciate you all and love it when you guys get all riled up. That just may be the fuel that gives us the edge. See you all on the night of June 17th at the Tokyo Dome!
Fly Seagulls!!!
(Coach KJ)