« Team Fighting Voice 'FLY OBIC SEAGULLS' | メイン | Are you not entertained? »
Ushering in a new season and welcoming new faces
June 22, 2018
The offseason has come and gone. The first three games of the spring season are already over. The process, both the offseason and spring has felt both short and long at times. Throughout it all, we have all been eagerly waiting, preparing, and aggressively taking on the 2018 season. 2017 didn't end the way we had hoped, and the way the season ended has left us with a bad taste in our mouths. The 2018 season brings us yet another opportunity to prove to ourselves, our fans, and everyone paying attention that we are the best team in Japan. We have accepted this challenge, and we are now in the process of working hard to become a complete and dominant team.
It was exciting to finally get out there and play our first few games of the spring season. We are still improving and are always looking forward to opportunities to showcase what we have been working on since the end of last season. There is a renewed spirit and energy around our team, and we are all expecting a lot out of each other. If we can live up to what we expect of ourselves I believe that we will have a successful season. Success for us is nothing less than a national championship. That's the goal and we hope to see you all there with us next January.
Three new faces that you will have to get used to will be those of our new quarterback, tight end, and defensive back.
Skyler, our new quarterback, joins us from he great state of Texas. They do things big in Texas, and we are looking forward to seeing Skyler's big arm and athleticism in action throughout the season. He was a standout at the West Virginia University. Starting for 3 seasons, leading his team to successive winning seasons, and putting up big numbers against some of the best defenses in the NCAA. Skyler has been the focal point of our revamped offense, and has guided the new look Seagulls to three victories thus far this spring.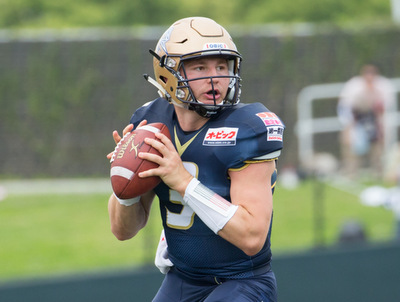 ▲QB#3 Skyler Howard
Holden, our new tight end, enjoyed on field success at his alma mater, Boise State University. There, Holden started for four seasons and was an integral part of The Bronco's top tier offense. Holden is a California native, and is already very proficient in Japanese. Holden too has started his career with the Seagulls on a strong note, making key blocks and coming down with a few crucial catches in his first few games in action.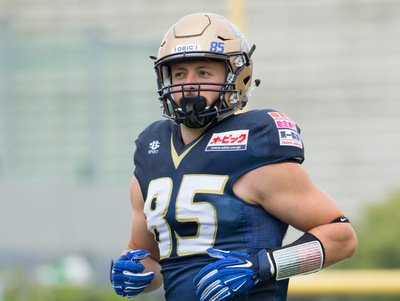 ▲TE#85 Holden Huff
Our last American new comer is the younger brother of defensive end BJ Beatty, Bronson Beatty. Bronson joins the Seagulls after a stellar career at Japanese collegiate powerhouse Nihon University. Bronson's presence on the field and big play making ability was one of the main factors that led to Nihon University's 2017 title run that recaptured the crown after a 27 year hiatus. Bronson has also excelled in his first few games with the team by making multiple interceptions and tackles in key situations. We are excited about what his game brings to our defense and how his play allows us to take more risks and be creative.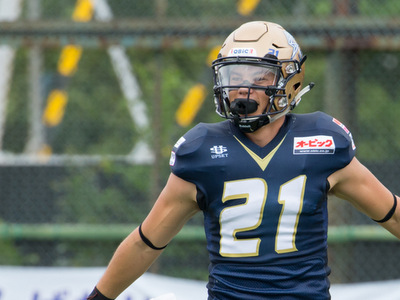 ▲DB#21 Bronson Beatty
Skyler, Holden, and Bronson have been hard at work getting adjusted to not only to the team, but life in Japan. The are making gains both on and off the field and we are excited about their future with the Obic Seagulls.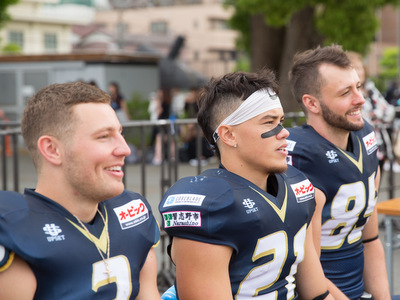 We look forward to seeing you all at our next big challenge; the Pearl Bowl final. We are extremely excited about the opportunity that lies before us. We have a chance to repeat as Pearl Bowl champions and exact revenge on the team that beat us in the 2017 fall season opener. It doesn't get more exciting than that. We hope all of you are excited as well.
Go Seagulls!